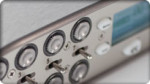 Last update Oct 15, 2013 – Posted Oct 15, 2013
Sound Devices 788T/788T-SSD firmware – (v3.01) provides the following new features and changes.
New
Added 'A-H' meter view which gives the ability to meter the eight ISO tracks without having to switch meter view.
Change
Removed Drive Speed Test due to inconsistent results. The original test was developed and optimized for use with older HDDs. It does not give accurate results with today's media.
Removed space character from the Take Designator and Scene Name menus as these can cause various work flow problems.
Recalls last meter view upon power up.
Fixes
CL-9 Max Acceleration is now working when USB keyboard is connected.
Note: It may be necessary to alter the Max speed setting to get the same acceleration feel as before.
CL-9 trim values now held over power cycles.
Outputs Set to HP L and HP R are now active after power cycle.
Changing current scene name while recording now ripples through to next take.
Per maggiori informazioni, visita il sito ufficiale del: produttore